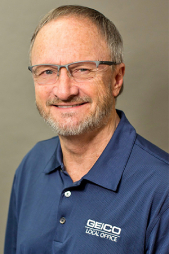 Learn how Ben and his Virginia Beach office can help you with insurance.
I'm Ben Willis, and I have been providing insurance services in Hampton Roads for over 35 years. In 1983, I opened my first GEICO office, and ever since, I have been recognizing local Military personnel for their service achievements by presenting them with awards at our surrounding Military installations. In addition to my support for our Military, I have held leadership roles in organizations such as the Navy League of Hampton Roads, Hampton Roads Military Diplomats, Hampton Roads Chamber of Commerce Armed Forces Committee, and the Virginia Beach Special Events Task Force. I believe involvement in our local community is essential as a responsible corporate citizen.
Find the Virginia Beach office.
From I-264 (the Virginia Beach Expressway), take exit 17-B for Independence Boulevard. In about a mile, turn right onto Virginia Beach Boulevard. Our office will be about 1/2 a mile down on the right.
Office Hours
Please call or email your local GEICO Office to learn more as office hours may vary.
Monday: 10:00 AM - 8:00 PM
Tuesday: 10:00 AM - 8:00 PM
Wednesday: 10:00 AM - 8:00 PM
Thursday: 10:00 AM - 8:00 PM
Friday: 10:00 AM - 8:00 PM
Saturday: 10:00 AM - 6:00 PM
Sunday: Closed