RV Insurance Policy For Your RV Or Travel Trailer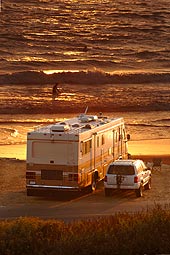 Who needs the hassle of booking flights, lining up rental cars, and hotels? You've got an RV or travel trailer which means you just pick up and go! Lucky for you, GEICO offers specialized RV insurance or travel trailer insurance to help protect you and your belongings at an affordable rate.
RV Insurance Coverage With GEICO, Because Home Is Where You Park It
RVers encounter situations that are unique to life on the road. So with that in mind, GEICO offers an enhanced Motorized RV and Towable RV insurance policy in most states.* These enhanced recreational vehicle insurance coverages include:
Total Loss Replacement – provides you with a new, comparably-equipped RV if your RV is totaled within its first four model years. When the RV is in the fifth through seventh model years, the settlement is the higher of the actual cash value at the time of loss or the original documented purchase price. After the seventh model year, the settlement is on an actual cash value basis. (Coverage availability may vary by state and vehicle value.)
Replacement Cost Personal Effects – pays for the replacement of your personal items in your RV that resulted from a covered loss. $1,000 or $5,000 of Replacement Cost Personal Effects coverage is automatically included at no additional cost with Comprehensive and Collision coverage depending upon the state in which the RV is rated. Additional limits of coverage are available up to $100,000 for additional premium.
Vacation Liability – pays for Bodily Injury and Property Damage losses that occur at your vacation site. $10,000 of Vacation Liability coverage is automatically included at no additional cost with Comprehensive and Collision coverage.
Emergency Expense Coverage – pays your expenses for hotels and transportation due to a covered loss. $1,000 of Emergency Expense coverage is automatically included at no additional cost with Comprehensive and Collision coverage.
Special Windshield Deductible – charges nothing for RV windshield repair, and $50 for RV windshield replacement.
Recreational Vehicle Medical Payments Coverage – pays the cost for necessary medical treatment that is caused in an RV accident, regardless of fault.
GEICO covers motorized recreational vehicles including Type A motorhomes, Type B motorhomes (van campers) and Type C motorhomes (mini motor homes), as well as sport utility recreational vehicles.
Travel Trailer Insurance
GEICO provides insurance coverage for towable RVs and travel trailers, including:
Conventional travel trailers
fifth-wheel travel trailers
travel trailers with expandable ends
folding camper trailers and truck campers
GEICO even covers the toy-hauler you use to transport your motorcycle or ATV.
Steer clear of bumps in the road with RV insurance from GEICO! Call 1-877-GEICO-RV (434-2678) anytime to speak to one of our RV insurance specialists or request a quote online.
*Enhanced RV coverage is currently available in all states except: HI, MA, MI, and NC.
Contact Us
We're here for you 24 hours a day, 7 days a week. The quickest way to contact us is through our app or online. You can also ring us by phone.
Customer Reviews
RV Insurance