Seniors & Drivers Over 50 Could Save With GEICO Insurance
Did you live through the 50's, the 60's, and the 70's?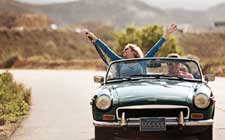 If you remember poodle skirts, hot rods, bell bottoms, and go-go boots, then you deserve to save money on your insurance!
GEICO recognizes that customers over the age of 50 have different needs and interests. As a baby boomer you will probably notice, if you haven't already, that many auto insurance companies will increase policy premiums or even decide not to renew a policy once the policyholder reaches a certain age. GEICO has a guaranteed renewal program which many policyholders over the age of 50 could qualify. Take a look at what GEICO has to offer...and you could start saving money on affordable car insurance with our discounts.
Are you fifty-years old or older?
GEICO's unique contract could give you guaranteed renewal. Our Prime Time contract could be automatically applied to your policy when you first buy a policy with GEICO or at the time of renewal. To qualify for GEICO's Prime Time contract you must:
Be at least 50 years old
Have no operators under the age of 25
Have no violations or accidents in the past 3 years
Not use any vehicle for business purposes
This contract is not available in every state and certain restrictions and eligibility requirements may apply. The Prime Time contract is available in the following states:
Alabama, Alaska, Arizona, Arkansas, Colorado, Delaware, Florida, Georgia, Idaho, Illinois, Indiana, Iowa, Kentucky, Louisiana, Maryland, Minnesota, Mississippi, Missouri, Nebraska, New Mexico, North Dakota, Ohio, Oregon, South Carolina, Tennessee, Utah, Virginia, Washington, West Virginia, Wisconsin
Auto Insurance Discounts for Seniors & Drivers Over 50
If you are a senior or over 50, you could qualify for auto insurance discounts. Discounts are available for defensive driving course completion, multiple car insurance policies, retired government employees, and more. Take a look at GEICO's discounts from which you could benefit.
Other Opportunities Where You May Save
GEICO contracts with various membership entities and other organizations but these entities do not underwrite the offered insurance products. In New York a premium reduction is available for affiliated groups.
Some discounts, coverages, payment plans and features are not available in all states or all GEICO companies. Discount amount varies in some states. Coverage is individual.
Homeowners, renters, condo, co-op, life, boat, PWC, flood, mobile home, identity protection and snowmobile coverages are written through non-affiliated insurance companies and are secured through the GEICO Insurance Agency, Inc.
If you are moving from or into a state that does not have a Prime Time contract, reside in California, or have any questions about GEICO's Accident Forgiveness program, please feel free to call (800) 861-8380 for more information or chat with us.
Contact Us
We're here for you 24 hours a day, 7 days a week. The quickest way to contact us is through our app or online. You can also chat for immediate help.