Government Shutdown
A Message to Our Policyholders
Our founders established the Government Employees Insurance Company (GEICO) to serve federal employees. We share a special history together and are proud to continue serving you today.
If you've been affected by the recent government shutdown, we're here to help. Our insurance agents are here 24/7 to assist you with your payment options and insurance needs.
To discuss postponing payments on your policy and billing options, please contact us anytime online or by phone at (800) 207-7847.
Thank you for being a GEICO customer.
Sincerely,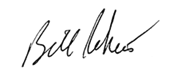 Bill Roberts
President & Chief Executive Officer