Buying A New Vehicle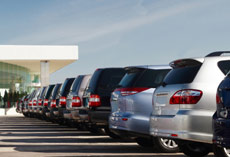 Whether you're keeping up with the Joneses by purchasing a bigger SUV or going green with a pint-sized hybrid, buying a new vehicle can be one of the most expensive purchases you'll make. The car you choose should be safe, reliable, and affordable. But it should also be fun and convey your personality. How do you narrow it down and protect your investment?
Looking For The Right, Affordable Car
No matter how good you'd look in a Ferrari, you need to spend within your budget. Determine how much you're able to spend each month on a car payment and you may be surprised at the selection of cars that fit in your price range. Don't forget to consider operating costs, fuel economy and insurance costs. Check out these resources and calculators and you'll be enjoying that new car smell soon:
Choosing A Safe Vehicle
Your new car needs to protect the most valuable cargo—you and your family. They haven't quite perfected invisible force fields yet, but car safety improves each year. A car packed full of safety features could also result in a lower insurance premium.
Protecting Your New Car
No, we don't mean washing and waxing it (although that's important, too). We're talking auto insurance, of course. Whether you're replacing that minivan from the 80's or adding your teen driver's first ride, you can make changes to your GEICO policy online or by calling (800) 861-8380.
GEICO Car Buying Service
Buy a new car with knowledge and confidence—not stress and anxiety. The GEICO Car Buying Service helps you with information, tools, and a low, upfront price. Try this no hassle, no obligation car-buying experience.
Learn More about buying a car the easy way.
Contact Us

Contact us 24/7 through our Mobile app, online, or by phone.

Learn More