New Car Insurance
Is a new car purchase in your future? Get help with a new auto insurance policy—and more.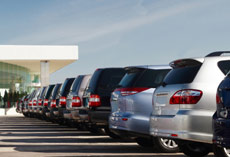 Whether you're keeping up with the Joneses by purchasing a bigger SUV or going green with a pint-sized hybrid, shopping for a new car is an exciting time. It's best to make sure you're prepared with the insurance coverage you need upon purchasing your new vehicle, so we're here to help you be proactive in your car search.
Getting a new auto insurance policy is easy with GEICO.
If you're all set to buy the new car or truck of your dreams and are already a customer with us, it couldn't be easier to add or remove a vehicle for your policy. You can adjust your quote amount by changing the coverage limits and deductible amounts. You may decide to carry a higher deductible this go-around. Not a GEICO customer yet? Get a free auto insurance quote and see how affordable car insurance can be.
You could save even more on an insurance policy for your new car if you qualify for other discounts like a multi-vehicle discount. New car safety features could add another discount.
And don't forget about the convenient, easy-to-use GEICO Mobile app—you can even get proof of insurance to show the dealership right on your phone!
Insurance that gives you peace of mind on the road.
Depending on the age and mileage of your new vehicle, it could be eligible for Mechanical Breakdown Insurance. This engine, transmission and electrical failure protection goes above and beyond the manufacturer's warranty to keep your vehicle running and your pockets full.
Consider adding Emergency Roadside Service to your new auto insurance policy for as little as $14 a year, per car. Whether you run over a pothole or drive a little too long with the needle close to empty, we're here to help.
Need help deciding on the right new car?
Determine if you should lease or buy a new vehicle, how much your payments will be, and more with our calculators and car buying resources.
Then, shop smart with GEICO's New Car Buying Service. With this beneficial car shopping assistance, you have excellent information at your fingertips so you can get the best car at the best price.
Contact Us
We're here for you 24 hours a day, 7 days a week. The quickest way to contact us is through our app or online. You can also ring us by phone.