Natural Disaster Safety Tips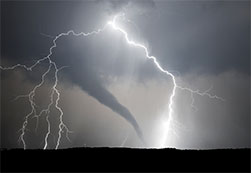 While most homeowner and auto policies cover damages caused by natural disasters, you can prepare ahead of time to help reduce losses. According to the Insurance Information Institute (III), from 1993 to 2012, hurricanes and tropical storms accounted for 40% of total catastrophe losses, followed by tornado losses (36%), winter storms (7%), wind/hail/flood (4%) and wildfires (1.7%).
We've compiled statistics and preparedness tips for 4 key types of natural disasters to help you take preventative action and stay safe.
Hurricanes
Based on averages, the National Oceanic and Atmospheric Administration (NOAA) predicts that a normal hurricane season from June to November has 12 named storms, six hurricanes and three major hurricanes. Hurricane quick facts:
September is the most likely month hurricanes will make landfall in the U.S.
4.2 million homes valued at $1.1 trillion are at risk of hurricane damage caused by surge flooding.
Standard homeowners insurance does not cover property damage from storm surge.
Hurricane Sandy caused $18.75 billion in losses in October 2012.
Be prepared:
Create a home inventory.
Prepare an evacuation plan.
Hurricane-proof your home.
Follow local, official instructions.
Tornadoes And Thunderstorms
Each year, the U.S. experiences approximately 1,000 tornadoes, more than any other country in the world. With deadly, strong winds and storms, tornadoes cause billions of dollars in losses. Want some more tornado facts?
Tornadoes most frequently occur from March until June.
Signs of tornadoes include dark, greenish skies, hail and a loud roar.
The average insured losses have increased sevenfold since 1980.
Tornadoes often occur with little warning. Be prepared:
Perform a home inventory.
Cut away dead foliage and make sure you can secure shutters or loose materials.
Stay indoors and away from windows during tornado warnings and watches.
Hail
While most hail storms occur during the summer months from May through July, hail causes up to $1 billion dollars of damage each year, according to NOAA. Hail can cause serious damage to your vehicle and your home's roof no matter the size of the hail. Below are some surprising facts about hail from III:
In 2013, Texas experienced the greatest number of hail storms at 651, followed by Kanas (504) and Nebraska (466).
Texas has accounted for more than 20% of all hail losses since 2000.
Claim severity has jumped 65% during the past six years.
Hail often comes with severe thunderstorms and tornadoes, so don't risk your safety by going outside to move your car or property to safety once the hail has started. Be prepared:
Park your car (before the storm!) in a garage or under a structure to protect from damage.
Stay inside and under cover.
After the storm, take pictures of the hail damage.
Wildfires
Wildfires are becoming increasingly common across many parts of the country. According to the National Interagency Fire Center, there were 41,790 wildfires in the United States from January 1 to October 10, 2014, which burned approximately 3.1 million acres. As one of the most destructive forces of nature, here are a few things to know about wildfire:
4.5 million U.S. homes are at high or extreme risk from wildfire. California has the most homes at high or extreme risk at 2 million, followed by Texas (1.3 million), Colorado (374,000) and Washington (163,000).
Idaho has the highest percentage of home at high or extreme risk at 24.1%.
Fighting wildfires costs an estimated $3.5 billion each year, according to Headwaters Economics.
While wildfires only account for a small portion of catastrophe losses, the damage can be devastating. Be prepared:
Perform a home inventory for insurance purposes.
Create a defensible space around your home to reduce the risk of the fire spreading.
Cut back brush and clear dead foliage and plant fire resistant and fire retardant plants.
Be ready to leave at a moment's notice. Have important documents, medications, pets, and supplies ready to go.
Contact Us
We're here for you 24 hours a day, 7 days a week. The quickest way to contact us is through our app or online. You can also ring us by phone.