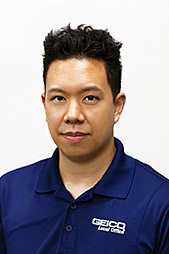 Get to know your Springfield agent.
Hello! My name is Paul Tye. I have been an insurance agent for over 10 years, and I am a native from New Jersey. I am a longtime member of the New Jersey Chinese-American Chamber of Commerce, and I support local charities and non-profits such as the Fresh Air Fund.
Paul has got you covered—and can help you save money.
Did you know GEICO offers a special discount for Military and government employees? Stop in my office today to review all the insurance discounts you could be eligible for. Our office can also help you with more than just auto insurance. Ask how we could help you save on your insurance coverages.
Paul and his team are multilingual.
We have full-time Spanish, Cantonese and Mandarin-speaking staff in our office available to help you.
Stop by the Springfield office.
We are conveniently located in the center island of Route 22. We are in between two car dealerships. We'd love to meet you!
Office Hours
Please call or email your local GEICO Office to learn more as office hours may vary.
Monday: 9:00 AM - 5:30 PM
Tuesday: 9:00 AM - 5:30 PM
Wednesday: 9:00 AM - 5:30 PM
Thursday: 9:00 AM - 5:30 PM
Friday: 9:00 AM - 5:30 PM
Saturday: 10:00 AM - 3:00 PM
Sunday: Closed