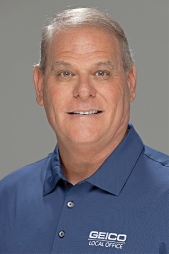 Meet Lowell Morgan
Your Local GEICO Insurance Agent
I'm here to help with all your insurance needs.
Office Hours
Monday: 9:00 AM - 6:00 PM
Tuesday: 9:00 AM - 6:00 PM
Wednesday: 9:00 AM - 6:00 PM
Thursday: 9:00 AM - 6:00 PM
Friday: 9:00 AM - 6:00 PM
Saturday: 10:00 AM - 2:00 PM
Sunday: Closed
Get to know Lowell Morgan, your Insurance agent in Charlotte, NC.
I'm Lowell Morgan, your GEICO insurance agent in the Charlotte metro area. If you love discounts, you came to the right place because we love saving people money. That's why we check every available discount to maximize your savings—like our Multi-Policy Discount for those who have auto insurance, as well as home insurance through the GEICO Insurance Agency.
In addition to being your local GEICO insurance agent, I love being involved in the community. I'm a proud coach and sponsor of the Charlotte YMCA, a member of the Charlotte Chamber of Commerce and also a member at the Peninsula Yacht Club.
En nuestra agencia de seguro en Charlotte tenemos representantes que hablan español. Le podemos ayudar con seguros de auto, casa, inquilinos, botes e inundación además de brindarle un excelente servicio.
We Take Care of Your Charlotte Boat Insurance Needs
With so many lakes in the area, we're happy to help with your boat insurance in Charlotte. Our office isn't far from Lake Norman, and as much as we love the water, we also love helping our customers with boat coverage. We even offer personal watercraft insurance for your favorite means of exploring the waters.
GEICO Offers Great Deals On Charlotte Motorcycle Insurance
If you ride a motorcycle, you know about the many scenic routes in the Charlotte area. We know that it's all about the ride, and now you can take GEICO along. You could save even more when you combine your car, RV and ATV insurance. We offer great coverage for what moves you. As part of the Charlotte community, my team and I look forward to helping you with all your insurance needs, and we're here to help you get the best rates and the best service to go with it.
Home Insurance for Your Peace of Mind in Charlotte
From homeowners insurance to renters, condo and even mobile home insurance, we're here to make sure you're never without coverage. With something as important as your home, you want to be sure you have the right coverage to protect your property.
Come Visit Our Office in Charlotte
We're conveniently located at 9325 Center Lake Drive Suite 130 in Charlotte, right in front of the Northlake Mall. We invite you to stop by to discuss your insurance needs or just to chat. We're happy to help in any way we can!
I look forward to meeting you and helping you get great savings on the insurance coverage you need.