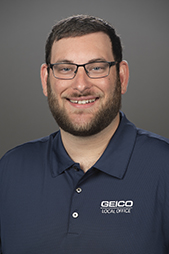 Meet Colin Earles, your local GEICO insurance agent.
Hi! My name is Colin Earles. I have 8 years of insurance experience, and I look forward to helping policyholders in the Upstate area with their insurance needs. If needed, I have Spanish - speaking staff available to assist you.
Learn about Colin Earles, your GEICO insurance agent in Spartanburg, SC.
In my free time I love fishing, freshwater or saltwater. Locally in Spartanburg, I fish at Lake Bowen. I enjoy fishing freshwater mostly for largemouth bass, bluegill, spotted bass, and trout. I've also caught cobia, red grouper, and tuna. I also enjoy boating. I have family members with jet skis, runabouts, pontoons, and even yachts on Lake Murray. Jet skis are my favorite to drive because they're very fast and agile. When it's not fishing and boating season, I love skiing wherever I can find a good mountain. Lastly, I'm a percussionist. All though I don't do it much anymore, I played drum set and marched a snare drum for many seasons during and after high school. I would like to get back into playing music.
Colin Earles understands more than just insurance in Spartanburg.
One of my team's biggest goals is to help our policyholders save money on car insurance, but our expertise doesn't stop there. If you enjoy spending time on Lake Bowen, Taylor Blalock Lake, or the Pacolet River, we may be able to insure your boat or personal watercraft! Do you like to camp at Croft State Park? We may be able to insure your RV. We can also help bundle your auto coverage with homeowners insurance through the GEICO Insurance Agency — so don't forget to ask us about GEICO's Multi - Policy Discount.
Colin Earles and his team are involved in the Spartanburg community.
My team and I look forward to attending several local events and supporting Dorman High School, Wofford College, and USC Upstate sports teams. Personally, I work with the Spartanburg Chamber of Commerce.
Colin Earles is here for you in Spartanburg, South Carolina!
Office Hours
Please call or email your local GEICO Office to learn more as office hours may vary.
Monday: 9:00 AM - 6:00 PM
Tuesday: 9:00 AM - 6:00 PM
Wednesday: 9:00 AM - 6:00 PM
Thursday: 9:00 AM - 6:00 PM
Friday: 9:00 AM - 6:00 PM
Saturday: 10:00 AM - 2:00 PM
Sunday: Closed