Text Alerts For Your Auto And Motorcycle Policies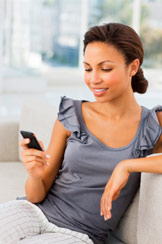 Wish you had a personal assistant to keep you on track? We can help. Now you can choose to receive text message alerts from GEICO reminding you to pay your auto or motorcycle insurance bills, update your credit/debit card information, and get your ID cards. No need to be attached to your email account. With GEICO's text alerts, you'll get the text message on your mobile device while you're out and about taking care of the things that are important to you.
Here's how it works.
You choose whether to participate or not. It is completely up to you. If you choose to enroll, then the types of text alerts you may possibly receive are as follows:
5-day Payment Due Reminder: This text alert is a reminder that your auto or motorcycle insurance payment is due. The alert is sent five days before the payment due date and is only sent if we haven't yet received your payment. If you are on an automatic payment plan, the alert will serve as a reminder that we'll be extracting money from your bank account or charging your credit card.
Payment Failed Text Message: This text alert informs you when your payment was unsuccessful. You will receive this message if GEICO is unable to successfully process your payment (i.e., credit/debit card payment is declined, bank check is rejected, etc.).
Cancellation Text Message: This text alert informs you that your auto or motorcycle insurance bill is past due and your insurance policy is at risk of being cancelled. If your bill is past due, we will issue a written cancellation notice (which you will receive in the mail) and we will also send you a text message indicating that your policy will be cancelled if no payment is received. The text message will include the amount you owe and the payment due date.
Expiration Text Message: This text alert informs you that your policy has expired and includes instructions on how to renew it. You will receive this text alert if you've allowed your policy to expire (i.e., you didn't make the necessary payment to renew it).

Renewal ID Card Text Message:

This text alert serves as a reminder that your insurance card(s) for the new policy period is available for viewing and/or printing.

You will receive this text alert approximately 10 days before your Policy Renewal date.
Credit Card Expiration: This text alert informs you that the credit/debit card we have on file for you is nearing its expiration date. It serves as a reminder for you to provide us with your renewed credit/debit card information.
How do I sign up?
Signing up is easy! Just log in to your auto or motorcycle policy. Once you are logged in, click on "Text Message Options" under the "Personal Info" dropdown menu. Simply enter your mobile phone number(s) in the space provided and place a check mark next to "Policy Alerts". You may enroll up to three phone numbers in Text Messaging.

Don't have a GEICO account yet? It's easy (and convenient) to set one up. Create an account now. It only takes a few clicks and you'll be on your way to managing your auto and motorcycle policies online.
Which carriers are supported?
Most major U.S. mobile carriers support GEICO text alerts. We've compiled a complete list of the carriers that support our messaging. If your carrier isn't listed, then check back from time to time to see if your carrier has been added to the list.
Need more info? Have more questions?
We're here to help. You can review our complete list of Frequently Asked Questions. If that doesn't help, just shoot us an email at texthelp@geicomail.com. We'd be happy to answer any questions you may have.
Contact Us
Contact us 24/7 through our Mobile app, online, or by phone.