Text Messages for Your GEICO Policies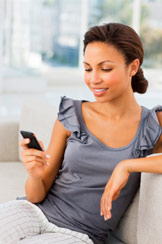 Wish there was an easier way to manage your account? Sign up to receive GEICO text messages. They will remind you to pay your insurance bills, update your card information, and download your ID cards. Now, when you're out and about, essential GEICO account information won't slip your mind.
Here's how it works.
You choose whether to participate or not. It is completely up to you. If you choose to enroll, here are some examples of the types of text messages you may receive:
Payment Notifications: These text messages refer to your account balance, payment due dates, and/or payment methods so you can better manage your account. Examples of Payment Notifications include reminders of upcoming payments and payment confirmations. You may also receive text message if you missed a payment or we encountered an issue when processing your payment.
Document Notifications: These text messages let you know when new policy documents are available or if you need to complete paperwork. For instance, we may need you to sign forms in order to maintain your selected policy options. You may also receive text messages regarding ID cards, proof of coverage, and renewal paperwork.
Policy Status Notifications: These text messages let you know the status of your account and any recent changes to keep you informed. For instance, Policy Status Notifications may refer to your upcoming renewal or pending cancellation. These text messages may also confirm recent changes to your policy, like adding a driver or changing an address. If your policy has expired or cancelled, you may receive instructions on how to renew your policy, pay your remaining balance, or receive a reimbursement.
Catastrophic Notifications: You will receive these text messages if we believe you may have been affected by a catastrophic event, whether that be natural (hurricane), economic (government furlough), or any other event that negatively affects a sizeable portion of our customers. These messages may provide information regarding how your policy will be affected, tips on how to handle the event or file a claim, and/or general updates on how we will support you throughout the event. To best serve your needs, these text messages will be tailored to the specific event.
How do I sign up?
Signing up is easy! Just log in to your account. Once you are logged in, click on "Text Message Options" under the "Personal Info" dropdown menu. Simply enter your mobile phone number(s) in the space provided and place a check mark next to "Policy Alerts". You may enroll up to three phone numbers in Text Messaging.

Don't have a GEICO account yet? It's easy (and convenient) to set one up. Create an account now. It only takes a few clicks and you'll be on your way to managing your policies online.
Which carriers are supported?
Most major U.S. mobile carriers support GEICO text messages. We've compiled a complete list of the carriers that support our messaging. If your carrier isn't listed, then check back from time to time to see if your carrier has been added to the list.
Need more info? Have more questions?
We're here to help. You can review our complete list of Frequently Asked Questions. If that doesn't help, just shoot us an email at texthelp@geicomail.com. We'd be happy to answer any questions you may have.
Contact Us
Contact us 24/7 through our Mobile app, online, or by phone.