Military Deployment Center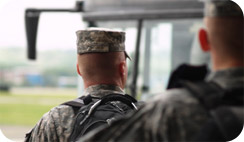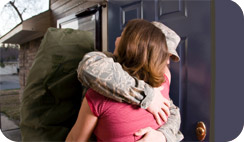 GEICO has a rich history of serving the Military for 85 years. We understand that deployments can be a stressful time. Review the following tips to help you prepare for all that deployment entails.
Pre-Deployment
Preparation is key to a smooth deployment. Use this pre-deployment checklist as a guide for preparing yourself and your family for your upcoming deployment. In addition, be sure to take full advantage of the support services provided by your command and base.
During Deployment
While you are deployed, knowing your affairs are in order and your loved ones back home have the support they need and having a plan for keeping in touch will help relieve stress.
Financial & Legal Matters – Understand your rights under the Servicemembers Civil Relief Act.
Communication – The communication methods available to you will depend on your location. If you have internet access there is email as well as other types of online communication such as Skype, Google+ Hangouts, and Facebook Chat. For telephone calls, pre-paid phone cards are a more economical option than calling direct.
Emergencies – Red Cross emergency communications services keep military personnel in touch with their families following the death or serious illness of an immediate family member, the birth of a service member's child or grandchild or when a family faces other emergencies. Military members and their families can use (877) 272-7337 (U.S. toll-free) to send an urgent message to a service member.
Support Services and Groups – Every command or base has a family support function.
In addition, here are links to some helpful websites:
Post-Deployment
Returning from a deployment will decidedly involve an adjustment period. In addition to the larger issues of reintegrating with your family and resuming your pre-deployment life, here is a small checklist of matters to attend to as well as some recommended post-deployment resources.
Legal

– Determine whether to keep, rescind or extend your power of attorney.

Home

– Reactivate utilities, phone services, cable, etc.

Vehicle

– If you placed your vehicle in a GEICO storage protection plan notify GEICO when your vehicle is back in use. Also, get in touch with us to update your preferred contact address.

Financial

Notify your credit card companies you are back.
Review your finances.

Support Services

– Each service branch has a post-deployment program to help you with the transition.
In addition, here are links to other helpful post-deployment sites:
Contact Us
We're here for you 24 hours a day, 7 days a week. The quickest way to contact us is through our app or online. You can also chat for immediate help.