2018 Service Award Recipients
Since 1988, GEICO has conducted the GEICO Military Service Award Program, recognizing and thanking one enlisted member from each Service and one enlisted member from the National Guard. Each is selected for their work in one of these area of endeavor:
Drug and Alcohol Abuse Prevention
Fire Safety and Fire Prevention
Traffic Safety and Accident Prevention
These exceptional enlisted men and women are recognized for their dedication and commitment to volunteer service in both their Military and civilian communities. Winners and a guest enjoy a weekend in the Nation's Capital, being treated to exciting and memorable activities including, tours of the White House and the National Cathedral, visits to the Iwo Jima, the Air Force, and the 9/11 Memorial sites, a lunch cruise on the Potomac, participation in a Wreath Laying Ceremony at Arlington National Cemetery, a tour of the Pentagon, and an office call with their service's Senior Enlisted Leaders and the Senior Enlisted Advisor to the Chairman of the Joint Chiefs of Staff, all culminating in the GEICO Military Service Awards program event at the historic Key Bridge Marriott.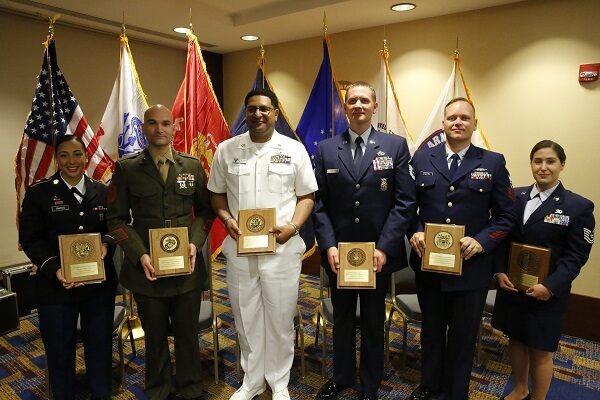 United States Army Odailys Matos
Specialist Odailys Matos is the Army recipient of the 2018 GEICO Military Service Award for her work in Fire Safety and Fire Prevention. She is currently assigned as a Supply Clerk, Special Troops Battalion, 1st Sustainment Brigade, 1st lnfantry Division at Fort Riley, KS.
Specialist Matos completed the Fire Warden's Safety course and was certified as a fire inspector. Her supply background and knowledge, coupled with her ability to coordinate with multiple installation agencies, ensured that all required fire prevention measures and equipment, such as fire extinguishers, fire doors, and emergency lighting, were in place and in good working order. Her hard work and attention to detail, was instrumental in providing for safe living spaces for nearly 200 soldiers in her unit.
As a result of her outstanding work and significant safety contributions to her unit, Specialist Matos received the Army Achievement Medal from the 1st Infantry Division Senior Logistician for her indelible contributions to her unit.
United States Marine Corps Gregory Bogaczyk
Staff Sergeant Gregory Bogaczyk is the Marine Corp recipient of the 2018 GEICO Military Service Award for his work in Traffic Safety and Accident Prevention. He is currently assigned as the Ground Safety Manager and Chemical, Biological, Radiological, and Nuclear Defense Chief for Marine Aircraft Group 41 at Naval Air Station/Joint Reserve Base in Fort Worth, TX.
As the Ground Safety Manager, without a formal requirement, Staff Sergeant Bogaczyk created an Arrive Alive Program, to ensure Marines would never be without an option to get home safely. Recognizing reluctance of use, he built the program around anonymity and without repercussion for underage drinking. He was not a motorcycle rider but purchased a motorcycle and attended the Naval Safety Center's Motorcycle Safety Representative Course and became the program expert and now is an avid rider. Due to the nature of the program commitments, many Marines and Sailors would not have been able to meet the required standards to ride a motorcycle. He developed a more in-depth safety brief prior to the 4th of July holiday. He worked with the Dallas Fort Worth Police Department to provide interactive demonstrations. The brief included drinking and driving prevention with "alcohol goggles," speed enforcement, and real-life stories from the police perspective.
United States Navy Jack Hopson Jr.
Senior Chief Jack Hopson Jr. is the Navy recipient of the 2018 GEICO Military Service Award for his outstanding work in Fire Safety and Fire Prevention. Senior Chief Hopson is currently assigned as the 3M Trainer and Inspector at Naval Air Forces Atlantic in Norfolk, VA.
SCPO Hopson developed the first-ever US Navy Firefighting course in Rota, Spain. Utilizing the Spanish Naval Firefighting Facility, he developed 15 scenarios and emergency action plans for Shipboard, Aircraft, and Helicopter Firefighting courses; developed a fire safety and prevention newsletter, a mock portable CO2 extinguisher training aide, handbooks, and guides resulting in the fire safety, and fire prevention awareness of over 55,000 aircraft carrier personnel. During a volunteer renovation project at the Alton Lloyd Spencer Masonic Temple, SCPO Hopson discovered their fire safety codes were not in specification. He contacted professional organizations to ensure compliance with local codes and standards. He assisted 12 other non-profit organizations by reviewing the Life Safety Code and Safety egress requirements. Additionally, he volunteered at Sharon A. Peterson Child Development Center where he read Fire Drill and Stop, Drop and Roll, resulting in children being taught lessons on fire drills and evacuations.
United States Air Force Christopher W. Engelke
Master Sergeant Christopher W. Engelke is the Air Force recipient of the 2018 GEICO Military Service Award for his work in Fire Safety and Fire Prevention. He is currently assigned as the Superintendent of Regional Dispatch for the Cheyenne Mountain Fire Emergency Services Flight, 721st Civil Engineer Squadron, 721st Mission Support Group, Cheyenne Mountain Air Force Station in Colorado Springs, CO.
MSgt Engelke serves as the focal point of emergency and contingency response operations supporting the Front Range Region, which includes Cheyenne Mountain, Peterson AFB, and the Air Force Academy. As the Air Force's first emergency response hub for all three locations, he ensures dispatchers provide a standardized operational context to first responders to dispatch, track and monitor emergency responses across all 3 installations.
MSgt Engelke's quick thinking and actions were on display when he encountered an off-duty collision involving 4 vehicles. Upon arriving at the scene, he quickly stabilized a chaotic environment, led 6 different civilian response teams caring for the injured, and ensured a 6 month pregnant mother received lifesaving care.
United States Coast Guard John W. Cochrane
Petty Officer First Class John W. Cochrane is the Coast Guard recipient of the 2018 GEICO Military Service Award for his work in Fire Safety and Fire Prevention. He is assigned to Coast Guard Cutter KIMBALL (WMSL 756) in Honolulu, HI.
As the leading petty officer for the Damage Control & Repair Division and the Fire & Safety Division Manager, PO1 Cochrane was responsible for developing and deploying fire prevention and firefighting tactics, techniques, and procedures training to the newly commissioned CGC KIMBALL crew.
PO1 Cochrane went above and beyond expectations of his paygrade writing the onboard Damage Control Petty Officer Program, establishing the shipboard Flight Deck Firefighting Team, and implementing the Gas Free Engineering Program. Through his tireless efforts CGC KIMBALL was deemed safe to sail with a well-trained and highly qualified crew. Not surprisingly, PO1 Cochrane's extraordinary contributions to the Coast Guard and crew do not end at the gangway. He has dedicated more than 1500 off duty volunteer hours with the Trail Life Organization where he is a hands-on leader, teaching America's youth survival skills training and fire prevention practices while in the wilderness.
National Guard Carissa Ann Siry
Technical Sergeant Carissa Ann Siry is the National Guard recipient of the 2018 GEICO Military Service Award for her work in Drug and Alcohol Abuse Prevention. As a Civil Operations Specialist, she is assigned to the New York National Guard Counterdrug Task Force in New York, NY.
TSgt Siry provides technical assistance to more than 25 community-based coalitions and 3 major college campuses through the Strategic Prevention Framework to effectively reduce substance abuse among youth. She coordinates mapping projects for the coalitions to express their concerns in the community. After a community identifies areas of concern pertaining to drug use and underage drinking, TSgt Siry then works with local law enforcement in conducting community scans to identify specific drug trends in that community. These educational and enforcement efforts significantly contribute to preventing the growing numbers of wayward youth becoming substance abusers.
Additionally, TSgt Siry coordinated grant research trainings so that coalition coordinator partners learned how to research, write, and receive grants in their substance abuse prevention fields. Those efforts resulted in the Suffolk Community College Brentwood Campus, receiving a $625,000 College Environmental Prevention grant from the New York State Office of Alcoholism and Substance Abuse Services over the next 5 years in order to reduce underage drinking among young adults.
Contact Us
We're here for you 24 hours a day, 7 days a week. The quickest way to contact us is through our app or online. You can also ring us by phone.