Seattle, WA Car Insurance Quotes
Affordable Auto Insurance in Seattle
Find the right Seattle car insurance with GEICO, combining affordable and competitive rates with outstanding customer service. Drivers in the Pacific Northwest's largest city need to know their vehicle is covered with reliable auto insurance policy. That's where you can count on GEICO to provide the coverage you need with car insurance rates you can afford. You also get the GEICO Mobile app, the easiest way to manage your auto policy on the go.
Get a fast and free car insurance quote online.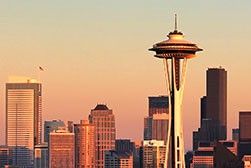 Why choose GEICO for Seattle car insurance?
Getting car insurance with GEICO means Seattle drivers can enjoy a variety of convenient features. Whether you're new to the Pacific Northwest or are a long-term Seattle resident interested in a better auto insurance policy, GEICO has you covered with features that include:
Minimum Car Insurance Coverage Requirements in Seattle, WA
Drivers in Seattle must have an insurance policy that meets or exceeds the minimum car insurance coverage requirements for the state of Washington.
Bodily injury coverage: $25,000 per person and $50,000 per accident
Property damage liability coverage: $10,000
Underinsured motorist bodily injury coverage*: $25,000 per person and $50,000 per accident
Underinsured motorist property damage coverage*: $10,000 per accident
Basic personal injury protection*: $10,000 per accident
Seattle Insurance Agents
We have dedicated insurance agents across the greater Seattle area, ready to answer any questions you have about a GEICO car insurance policy. You can also reach us 24/7 in our award winning app. Check out how we're making insurance easier in the app with 1 click bill pay, digital ID cards, on-demand roadside assistance, and more. Download our award winning app today.
GEICO has insurance agents across the Seattle area including the following cities:
• Bellevue, WA
• Lakewood, WA
• Silverdale, WA
Helpful Tips for Navigating Seattle
Seattle is generally laid out in a grid pattern, but it also has its share of winding streets that can run at odd angles. The north-south streets are labeled "avenues" while the east-west ones are "streets."
A trick to help you remember that all Seattle Avenues run north and south is to think of University Avenue NE. It's the main street that runs through the University District neighborhood and is known as "The Ave" by Seattle residents. So, remember, "The Ave" runs north and south, just like all Seattle Avenues.
When you're driving to a destination in Seattle, be sure to have the exact address on hand because navigating through the city could be confusing otherwise. Seattle streets have seven different directional sectors: N, S, E, W, NE, NW, and SW. "Street" addresses will have the directional sector before the street name (NE 52nd Street) while "Avenue" addresses have the sector written after the name (52nd Avenue NE).
Here are a few other facts to remember about finding your way around Seattle:
Downtown streets don't have directional designation
Interstate 5 and Route 99 are the only streets in Seattle that run uninterrupted from north to south
"Ways" are long, diagonal roads, "Drives" are circular routes and "Courts" are a block long
Be mindful of pedestrians; Seattle has been rated one of the most walkable cities in the U.S.
Attractions in The Seattle Area
Once you understand how to navigate through Seattle, you can check out some of the sights. The city's most well-known landmark is the Space Needle, where an elevator ride to the top of the 605-foot building takes just 41 seconds! When you come back down, you can hop on the Seattle Center Monorail and take it downtown to the Westlake Center for some shopping. You can also check out the Pike Place Market, the Experience Music Project Museum or the Seattle Great Wheel.
Read More About Washington Car Insurance
If you need to know the state required coverage levels or the teen driving laws in Washington state, our Washington car insurance page will help you make the right decision about your car insurance.
Contact Us
We're here for you 24 hours a day, 7 days a week. The quickest way to contact us is through our app or online. You can also chat for immediate help.
Check Out a New Quote
You are about to leave geico.com