Say hello to Kate, your new virtual assistant.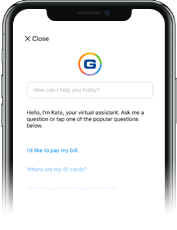 Now it's even easier to find what you're looking for with Kate, GEICO Mobile's new virtual assistant. With Kate, you can inquire about policy coverages, view billing information, and find answers to your questions faster.
Smarter answers. Immediate responses.
Kate learns by chatting with customers just like you. Have a question? Just start a conversation with Kate and she'll give you an answer, or take you exactly where you need to be in the GEICO Mobile App.
Access Kate 24/7; just like GEICO, she's there when you need her.
Inquire about policy coverages, billing information, and more.
Who can use the virtual assistant?
Kate is available for both iOS and Android. Don't have the app yet? Download it today and check out the other features we have to offer.