Meet GEICO Mobile's Virtual Assistant: Insurance Made Easy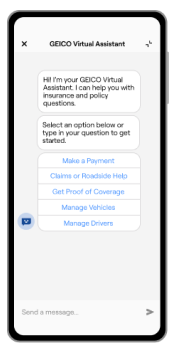 Knock, knock.

Who's there?

Not me, GEICO's Virtual Assistant. Chatbots can't knock on doors. The only digit I have is in digital. OK, I'm still working on my jokes but don't blame me. I don't have a funny bone. I am pretty good at helping you with insurance questions though. Plus, the more you interact with me, the better I get!

Download the GEICO Mobile app and see how I'm helping to make insurance easy.
How can GEICO'S Virtual Assistant help?
I can help you with all sorts of insurance related things. You can ask me:
For information on policy coverages
To view billing information
To find documents like insurance ID cards, and more
I'm here for you 24/7 in GEICO Mobile. Why? Well, because we're GEICO. Also, I don't sleep.
Who can use the virtual assistant?
I'm available in the GEICO Mobile app on iOS and Android. So, download GEICO Mobile and see what everyone's talking about. Psst, it's probably about insurance.