Access GEICO On Your Digital Device
Compare GEICO's Digital Features
Get Your ID Cards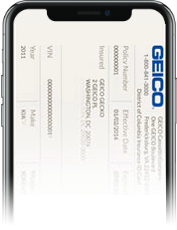 With your mobile device you can download your ID cards easily to be printed, emailed, or viewed immediately. The GEICO Mobile app also contains Digital ID Cards that are optimized to fit your screen and provide up-to-date information on your phone, which means no more worrying about an expired insurance card.

With GEICO's Skill for Amazon Alexa and Google Action, you can also use your voice to order ID cards by email or by U.S. mail. Enable the GEICO Amazon Alexa Skill or GEICO Google Action today!

Learn More
Get Roadside Assistance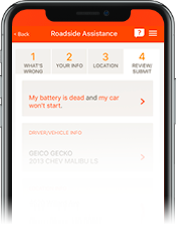 Get roadside help online or download the GEICO Mobile app to your Android or iPhone. Emergency Road Service (ERS) is available at your fingertips!
ERS for mobile provides you with:
24/7 toll-free assistance (including holidays)
GPS locator
Quick response
Personal assistance
Requesting vehicle assistance at home? With the GEICO Amazon Alexa Skill and Google Action, you can request assistance using your voice instead of your phone or computer. Try the GEICO Amazon Alexa Skill or the GEICO Google Action today!
Find a Ride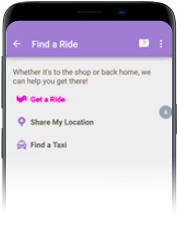 Car stuck? Get a ride in minutes. Look for Lyft in Find a Ride in the Extras section of the GEICO Mobile app. Lyft* matches you with local drivers right from the app.
*Subject to availability based on location.
Virtual Assistant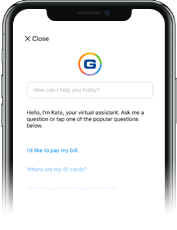 Now it's even easier to find what you're looking for with Kate, GEICO Mobile's new virtual assistant. With Kate, you can inquire about policy coverages, view billing information, and find answers to your questions faster. Talk or text with Kate. She'll respond with lightning-fast speed! She can even take you to the right place in the app!
Vehicle Care powered by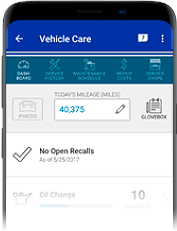 Taking care of your car is easier than ever with Vehicle Care in the GEICO Mobile App.
Be the first to know about open recalls
View your vehicle service history
Get alerts for upcoming service
Know when your registration is due
Download the GEICO Mobile, now with Vehicle Care powered by myCARFAX®, to easily manage your car's maintenance.
Chat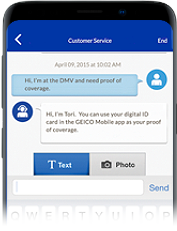 Need to chat with a GEICO representative but you don't want to talk on the phone? No problem, we understand sometimes a phone call isn't convenient. That's why we've added Chat to the GEICO Mobile app.
Gas Finder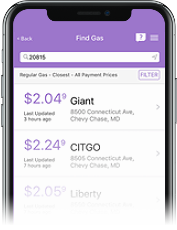 Who doesn't like saving money? Use our gas station locator on GEICO Mobile to plan what gas stations to stop at during your trip or to see real-time prices near you. Find the best gas for your tank and your wallet!
Parking Locator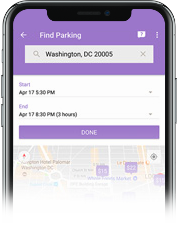 Don't drive around in circles looking for parking. Use GEICO Mobile to find and book parking before you arrive at your destination. Just have your mobile device handy and turn on geolocation.
Easy Photo Estimate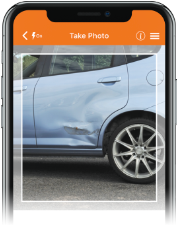 Time is money. We get that. GEICO has a way to save you both with Easy Photo Estimate. Speed up minor claims by submitting photos of the damage through GEICO Mobile. No need to be a professional photographer—Easy Photo Estimate will guide you every step of the way.
GEICO Destinations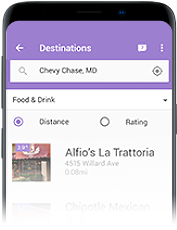 Explore the open road with the GEICO Mobile app's Destinations feature. Find nearby attractions for a fun day-trip or plan your next getaway. You can search for points for interest, activities, or even great places to get a bite to eat.
GEICO Alexa Skill
Use your voice to check on your GEICO policy. It's really that easy. You can interact with GEICO, by using your voice instead of your phone or computer.
Pay your bill
Check your balance
Order ID cards
Request roadside assistance
And more
Enable the GEICO Amazon Alexa Skill today!
Contact Us
Contact us 24/7 through our Mobile app, online, or by phone.