Roadside Assistance In GEICO Mobile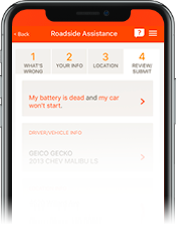 Roadside Assistance: Easier with the GEICO Mobile App
Roadside assistance and the GEICO mobile app go together like mac and cheese. It just works.
With roadside assistance, you can rest assured GEICO is here to help you 24 hours a day, 7 days a week. Whether it's a dead battery, a nail in a tire, or an empty gas tank, we're only a few clicks away on the GEICO mobile app. It's just one of the ways we're working to make insurance easy.
Download GEICO Mobile today, the fastest way to request roadside assistance.




Why use the GEICO mobile app to get roadside assistance?
Request help in as little as 2 minutes
Available 24/7 for a quick response
GPS locator can help us find you
Like fries to a burger, roadside assistance is the perfect side to the GEICO mobile app. Anyone else hungry? When you download the GEICO mobile app, we can help you find a spot to eat too.
All jokes aside, download GEICO Mobile today to see how we're making insurance easy.






OR Text MOBILE to 43426 (GEICO) to download now†
† GEICO does not charge for this service. However, message and data rates may apply from your mobile carrier.
Apple and the Apple logo are trademarks of Apple Inc., registered in the U.S. and other countries. App Store is a service mark of Apple Inc., registered in the U.S. and other countries.
Google Play and the Google Play logo are trademarks of Google Inc.
Location Services
When you are unsure of your exact location, you may provide us with oral approval to attempt to locate you via information provided by your mobile phone provider ("Location Data"). You may opt-out of this service by declining to provide your oral approval. We will use the Location Data for the sole purpose of dispatching roadside services. We may revise the Location Data if, after conversation with you, we determined it to be inaccurate. We will only share the Location Data with the roadside assistance provider(s). The Location Data is stored temporarily (typically for one week) in a secured database accessible only by those of our employees and agents with a reasonable need to know such information in order to provide roadside services. We will maintain a record of the location to which we dispatched roadside assistance, but such record shall not reference the Location Data as the source of such information.
Contact Us
We're here for you 24 hours a day, 7 days a week. The quickest way to contact us is through our app or online. You can also chat for immediate help.