Roadside Assistance In GEICO Mobile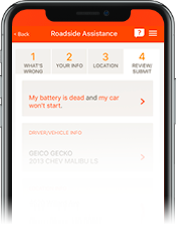 Flat tires and breakdowns never happen at a convenient time or place. Sometimes, you're on a dark interstate with no signs in sight. With GEICO Mobile, you can request roadside help in just three easy steps, and use the interactive map to see where you are. The app will even send your exact location to the dispatcher and estimate when help will arrive.
Getting roadside help has never been so easy.
GEICO Mobile instantly connects you with people who can either put you back on the road or take you to a place where repairs can be made. When you request roadside assistance in our app, you'll even be able to customize the type of help you need.
Flat tire? You can request for someone to put on the spare, or request a tow if you don't have a good tire. Out of gas? You're a few taps away from quenching your car's thirst. You can even choose regular, premium, or diesel right from the app.
Download GEICO Mobile Today
We hope you don't need roadside help today. But when you do, you'll be glad you have GEICO Mobile to save the day. Download it on your Android or iOS device.
Or, text ROADSIDE to 43426 (GEICO) to receive a link to download the app.†
Location Services
When you are unsure of your exact location, you may provide us with oral approval to attempt to locate you via information provided by your mobile phone provider ("Location Data"). You may opt-out of this service by declining to provide your oral approval. We will use the Location Data for the sole purpose of dispatching roadside services. We may revise the Location Data if, after conversation with you, we determined it to be inaccurate. We will only share the Location Data with the roadside assistance provider(s). The Location Data is stored temporarily (typically for one week) in a secured database accessible only by those of our employees and agents with a reasonable need to know such information in order to provide roadside services. We will maintain a record of the location to which we dispatched roadside assistance, but such record shall not reference the Location Data as the source of such information.
Please Note
These are general policy descriptions to help you understand the different types of coverages. They are not intended to modify any provisions in any contract of insurance. Always read the insurance contract for specific explanations of coverages and exclusions. In North Carolina, Emergency Road Service is called Towing and Labor Coverage. Services offered may vary by state.
Contact Us
Contact us 24/7 through our Mobile app, online, or by phone.