Roadside Assistance In GEICO Mobile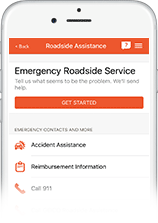 Flat tires and breakdowns never happen at a convenient time or place. Sometimes, you're on a dark interstate with no signs in sight. With GEICO Mobile, you can request roadside help in just three easy steps, and use the interactive map to see where you are. The app will even send your exact location to the dispatcher and estimate when help will arrive.
Getting roadside help has never been so easy.
GEICO Mobile instantly connects you with people who can either put you back on the road or take you to a place where repairs can be made. When you request roadside assistance in our app, you'll even be able to customize the type of help you need.
Flat tire? You can request for someone to put on the spare, or request a tow if you don't have a good tire. Out of gas? You're a few taps away from quenching your car's thirst. You can even choose regular, premium, or diesel right from the app.
Download GEICO Mobile Today
We hope you don't need roadside help today. But when you do, you'll be glad you have GEICO Mobile to save the day. Download it on your Android or iOS device.
Or, text ROADSIDE to 43426 (GEICO) to receive a link to download the app. †
† GEICO does not charge for this service. However, message and data rates may apply from your mobile carrier.
Apple and the Apple logo are trademarks of Apple Inc., registered in the U.S. and other countries. App Store is a service mark of Apple Inc., registered in the U.S. and other countries.
Google Play and the Google Play logo are trademarks of Google Inc.
Please Note
These are general policy descriptions to help you understand the different types of coverages. They are not intended to modify any provisions in any contract of insurance. Always read the insurance contract for specific explanations of coverages and exclusions. In North Carolina, Emergency Road Service is called Towing and Labor Coverage. Services offered may vary by state.