The 2022 GEICO Military Service Award Winners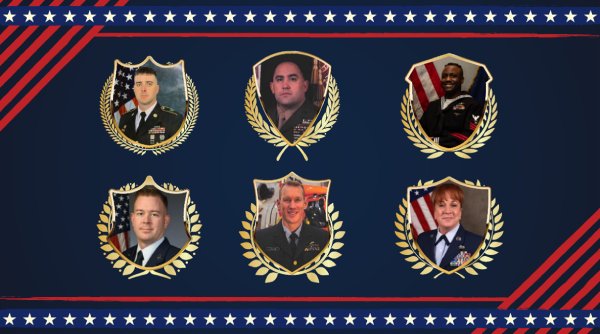 GEICO honored six members of the U.S. military with its 2022 GEICO Military Service Awards. This award recognizes service members for leadership and mission accomplishments that set them apart from their peers, as well as volunteer activities and contributions that enrich their communities.
"Members of the military were among some of our very first GEICO customers," said Lona Montgomery, Head of Agency Operations. "We have formed a special bond with members of the armed forces throughout our more than 85-year history, and the GEICO Military Service Awards gives us an opportunity to honor those who have given so much of themselves to defend our freedom and build stronger communities."
Staff Sgt. Joshua Turlington – United States Army
Staff Sgt. Turlington spends countless off-duty hours volunteering in various ways to help his local community. He often provides and serves food for families in need.
Additionally, Staff Sgt. Turlington volunteers at the Vilseck Community center near his military base in Germany, where he provides soldiers, families, and civilians a safe and fun atmosphere to get to know one another by participating in games and barbecues, and by hosting movie nights and numerous friendly competitions.
Sgt. Turlington is also passionate about helping animals and regularly works with the Humane Society. He has cared for more than 500 animals and helped nurse them back to health so they can be re-homed.
While in uniform, Staff Sgt. Turlington is responsible for gear and equipment valued in the millions.
Master Sgt. Joshua C. Gonzalez – United States Marine Corps
Master Sgt. Gonzalez's volunteer efforts focus on aiding troubled juveniles, first time college students, and teenagers facing adversity and bullying. One of his most notable accomplishments includes designing and implementing an anti-bullying campaign for the entire Los Angeles School District.
Master Sgt. Gonzalez also works with children struggling to adjust to military life by providing them with mentorship and teaching them coping skills.
On duty, Master Sgt. Gonzalez has oversight responsibilities for the maintenance and distribution of more than 28,000 pieces of military equipment. His fellow service members turn to him for his technical acumen, which has had a profound impact across the entire United States Marine Corps.
Retail Service Specialist Christopher Gray – United States Navy
Retail Service Specialist Gray has a passion for making his local community more beautiful and helping those in need. Through his volunteer efforts with the California Adopt-a-Highway program, Retail Service Specialist Gray spends time outside cleaning up along major highways. He also helps those experiencing homelessness through PATH, a re-housing program.
On duty, Retail Service Specialist Gray facilitates training and drills for 350 personnel to ensure they improve their readiness for active combat. Additionally, he is responsible for providing outstanding retail services that have resulted in a $60,000 donation from his ship's store profits to the Morale, Welfare, and Recreation fund, which helps to improve morale for sailors on board his ship.
Technical Sgt. Shaun Powell – United States Air Force
Technical Sgt. Powell is an expert in fire safety, and regularly shares his knowledge with Boy Scouts and students in the Kansas City area. He teaches them safe escape techniques and shelter-in-place actions.
Additionally, he raised $80,000 for the Lee's Summit, Missouri, Fire Department's Needy Families fundraiser.
While on duty, Technical Sgt. Powell put his extensive fire safety training into action, once saving the life of a wounded soldier during a dorm fire. Technical Sgt. Powell's devotion to safety extends to vehicles as well. While on duty, he has fortified his command's accident and abuse program and orchestrated repairs to 64 military vehicles, which helped resolve a total of 739 safety issues.
His commitment to safety has earned him recognition as a Wing Superior Performer.
Aviation Survival Technician Keith Williams – United States Coast Guard
Aviation Survival Technician Williams has a passion for both sports and music. He has coached both youth baseball and soccer teams and played an instrumental role in forming youth basketball teams at his local Christian academy.
When he's not on the field, Williams can be found in rehearsals where he serves as the band leader for his church.
He also provides mentorship to at-risk middle school aged students through an after-school outreach program.
On duty, Aviation Survival Technician Williams plays a crucial role in identifying ways to improve his unit's training program. The results of his work were highlighted during the daring and safe rescue of two hikers from a cliff off the treacherous Neahkahnie Point along the Oregon coast.
Senior Master Sgt. Marla Urban – National Guard
Senior Master Sgt. Urban has devoted herself to helping military veterans. She volunteers with Passageways LTD, a non-profit organization for homeless veterans, organizing shelter, clothing, and food donations. Her work with this organization provides a path to lead veterans out of homelessness.
On duty, Senior Master Sgt. Urban was responsible for her command being recognized as the top Food Services Operation in the Air National Guard for 2022, ultimately being awarded the coveted "Senior Master Sgt. Kenneth W. Disney Food Service Excellence Award."
Additionally, she filled the role of the 184th Force Support Services Superintendent, where she led a team of 20 enlisted personnel who provided food service, fitness programs, lodging, mortuary services, and domestic operations support.
Past Award Recipients
Contact Us
We're here for you 24 hours a day, 7 days a week. The quickest way to contact us is through our app or online. You can also chat for immediate help.