Easy Photo Estimate: Insurance Made Easy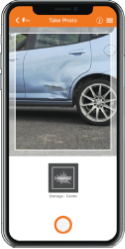 Some things are meant to be hard, like standardized tests. Easy Photo Estimate is not a standardized test. With the GEICO mobile app, getting an estimate for minor damage to your vehicle has never been easier. No appointment, no finding a shop, and no waiting in line. Use the app. A couple taps. Sit back and relax.

With Easy Photo Estimate you can get a professional estimate right from GEICO Mobile. It's that easy. Download GEICO Mobile today!
How Easy Photo Estimate work?
With GEICO Mobile, you can complete your estimate in 3 steps:
1. Take some pictures of your damage from a few angles (we'll help guide you)
2. Label and leave comments on your pictures
3. Submit the photos

No need to take notes, there's no pop quiz. We'll walk you through it all step-by-step in the app, too!
How long does it take to complete Easy Photo Estimate?
The whole process takes about 20 minutes. We know 20 uninterrupted minutes can be hard to come by. Don't worry. You can stop when you need to and pick it up right where you left off. Just complete the process in 4 days once you've started.
So put away those number 2 pencils. Download GEICO Mobile to see how we're making insurance easy.
Contact Us
We're here for you 24 hours a day, 7 days a week. The quickest way to contact us is through our app or online. You can also ring us by phone.