Easy Photo Estimate on GEICO Mobile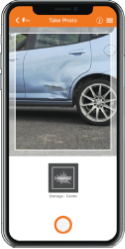 Runaway shopping cart leave a dent in your fender? Hey, it happens, and we're here to help. The GEICO Mobile app's new feature, Easy Photo Estimate, will make the inspection and estimate process just that—easy. Rather than taking time out of your day to drive to a shop and have your vehicle inspected, you can follow the quick and easy prompts in Easy Photo Estimate to take pictures of the damage at your convenience and send them to us. Who knew it could be so easy?
How does it work?
The Easy Photo Estimate process is completed in 3 steps which will take you about 20 minutes. You'll first take a series of photos of your damage from different angles using the camera guides to help you through the process. Next, you'll be given the opportunity to tag the photos and provide comments. Finally, you'll submit the photos and get back to your day.
What if I get interrupted?
If you're in the middle of taking photos and your phone rings—as phones tend to do—there's no need to worry. You can pick up right where you left off as long as you return to the process within 4 days.
Who can use Easy Photo Estimate?
Easy Photo Estimate is found within the GEICO Mobile app which is available to iOS and Android users. Don't have the app yet? Download it today and check out the other features we have to offer.
Contact Us
Contact us 24/7 through our Mobile app, online, or by phone.