Car Insurance Information for Teen Drivers
Everything You Want to Know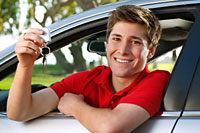 Learning to drive is something every teen looks forward to. They're excited about having a little freedom, but parents are worried about their teen's safety—and their car insurance rates. We're here to help! We think driving can be fun as long as you learn the basics and act responsibly.
Educating Parents and Teen Drivers
Experience helps teen drivers stay safe on the road. Experience also helps share a responsible attitude about driving. And responsible driving could help keep your car insurance rates low. We've compiled some helpful resources to get teens and parents started.
Safety Resources for Teen Drivers
Car Insurance and Accidents
Save on Car Insurance Costs for Teens
Teen drivers will need car insurance. We want to help. Here's some additional information to help with decisions about insurance coverage for teen drivers.
Cutting costs: Adding a teenage to a car insurance policy can be daunting, but there are steps you can take to help save money on premiums.
Look into car insurance discounts for students. GEICO offers eligible students Good Student Discounts in most states, as well as discounts for members of certain student organizations.
How to Add a Teen Driver to your Car Insurance
For parents, it's important that your teen driver has the proper amount of car insurance coverage before they get behind the wheel. Luckily, adding them to your auto insurance policy is easy. It may also be cheaper than getting them a new policy of their own. Contact a GEICO agent when your teen gets their permit or driver's license to get a quote for a new driver on your policy.
Keeping Them in the Family
GEICO makes it easy to move a teen or young driver to their own auto insurance policy. We can apply discounts they qualify for and give them the benefit of their experience on an existing policy. They'll also continue getting the same great customer service. We're here to help—from making a policy change, filing a claim, or even just asking us a question.
Contact Us
We're here for you 24 hours a day, 7 days a week. The quickest way to contact us is through our app or online. You can also ring us by phone.
Check Out a New Quote
You are about to leave geico.com