Teen & New Driver Car Insurance Information
Educating Yourself and Your Young Driver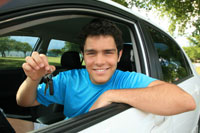 You, the parent, and your influence can help shape a responsible attitude about driving. And you can help teens gain the experience they need to stay safe on the road—and keep your car insurance rates low. Find out how with the information and resources below.
Articles and Information for Parents
Feeling social? Subscribe to our YouTube Teen Drivers channel for safety videos for and about teens.
Cutting costs: Adding a teenager to your car insurance policy can be daunting, but there are steps you can take to help save money on premiums.
Graduated drivers license: Proven to improve teen safety and their driving skills, learn why this important tool is one you should be enforcing.
Ten tips for parents: What contributes to teen accidents? How can parents help prepare their teen for the dangers of driving? Read our top ten tips to help you prepare for this transitional period.
Teens and safe cars: A major factor in teen safety is the kind of car they drive. The Insurance Institute for Highway Safety (IIHS) and the Insurance Information Institute (III) say a safe vehicle can make a big difference.
Information From the GEICO Educational Foundation
Driver's first 6 months and the contract you need to sign: The first 6 months your teen is on the road are critical. Driving is the greatest danger your teen will face. Learn why and then go over our Parent-Teen Contract with your young driver before they hit the road.

Teen Driving Resources: Find brochures, presentations and a parent-teen contract for educating teens and parents on the challenges facing young drivers.
Keeping Them in the Family
GEICO makes it easy to move your teen or young driver to his or her own GEICO policy while continuing to receive the same great customer service you're currently receiving. We already know your young driver and can apply discounts they qualify for and give them the benefit of their experience on your policy. We'll be here to assist if making a policy change, filing a claim, or even just asking us a question.
When your son or daughter is ready to consider a GEICO car insurance policy of his or her own, we're here to help. Get an auto insurance quote online, visit a local agent, or call (800) 555-2760.
Contact Us
We're here for you 24 hours a day, 7 days a week. The quickest way to contact us is through our app or online. You can also ring us by phone.