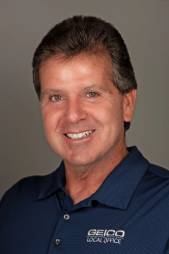 Meet Kyle Richmond, your local GEICO insurance agent.
Hi! My name is Kyle Richmond, and I have over 29 years of insurance experience. After college, I started working in banking, but I quickly found my home in insurance. I started as a property adjuster and worked my way to opening my own office. I'm excited for this new chapter!
Learn about Kyle Richmond, your GEICO insurance agent in Surprise, Arizona.
First and foremost, I love helping my community. That's a huge part of who I am, and it's helped shape and reinforce my career path. I find joy in providing peace of mind to customers and assisting them through any challenges they may encounter. Another reason why I love working in the insurance industry is being able to help policyholders recover from challenging situations. Listening is key to providing the right solutions to protect our community members. My hobbies include bicycling, bowling, family time, golf, hiking, skiing, traveling, home improvements, and four wheeling. I also enjoy working with animal rescue shelters.
Kyle Richmond understands more than just insurance in Surprise.
One of my team's biggest goals is to help our policyholders save money on car insurance, but our expertise doesn't stop there. If you are stationed at the Luke Air Force Base, we may be able to offer you a special Military discount! Do you spend your weekends camping or boating near Lake Pleasant Regional Park or one of the other nearby lakes or parks? We could also help insure your RV and boat! Don't forget to ask us about GEICO's Multi-Policy Discount–we can also help bundle your auto coverage with homeowners insurance through the GEICO Insurance Agency.
Kyle Richmond and his team are involved in the Surprise community.
My team and I attend many local events, including the Arizona Balloon Festival, Arizona Jazz Festival, Arizona Chinese Lantern Festival, Veterans Day Parade, and Arizona Polish Festival.
Kyle Richmond is here for you in Phoenix, Arizona!
Office Hours
Please call or email your local GEICO Office to learn more as office hours may vary.
Monday: 8:00 AM - 6:00 PM
Tuesday: 8:00 AM - 6:00 PM
Wednesday: 8:00 AM - 6:00 PM
Thursday: 8:00 AM - 6:00 PM
Friday: 8:00 AM - 6:00 PM
Saturday: 9:00 AM - 2:00 PM
Sunday: Closed