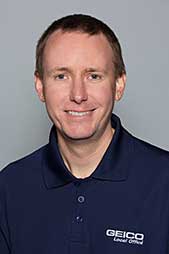 Meet Greg Mauk
Your Local GEICO Insurance Agent
I'm here to help with all your insurance needs.
Office Hours
Monday: 9:00 AM - 6:00 PM
Tuesday: 9:00 AM - 6:00 PM
Wednesday: 9:00 AM - 6:00 PM
Thursday: 9:00 AM - 6:00 PM
Friday: 9:00 AM - 6:00 PM
Saturday: 10:00 AM - 3:00 PM
Sunday: Closed
Greg Mauk is your local GEICO Insurance Agent in Oxnard.
Hi, I'm Greg Mauk. I've worked in the insurance industry for over 15 years, and I've been serving Ventura County as your GEICO Insurance Agent since 2011. My Oxnard office can help you insure your home, auto, and more. If you enjoy spending time out on the Pacific Ocean, ask about our boat or personal watercraft insurance.
If you speak Spanish, we have agents available to assist you.
En nuestra agencia de seguro en Oxnard tenemos representantes que hablan español. Le podemos ayudar con seguros de auto, motocicleta, casa, inquilinos, botes, inundación y más, además de brindarle un excelente servicio.
Find Greg and his team out and about.
Each year, my team sponsors charitable organizations, including Toys for Tots. Look for our tent and the GEICO Gecko at local events like the Oxnard Strawberry Festival, the Ventura County Fair, and the Oxnard Salsa Festival. I am also an active member of the Oxnard Chamber of Commerce.
The GEICO Oxnard office is close by.
We are south on the Rose Avenue exit of the 101 Freeway. Look for us in the Rose Ranch Shopping Center, on the southwest corner of the Rose Avenue and Gonzales Road intersection.