Daytona Beach Insurance Agent
Your Local GEICO Insurance Agent In Daytona Beach
Click the agent name or photo for more information.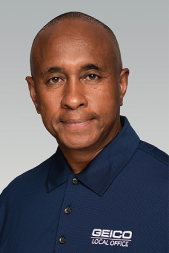 921 West International Speedway Blvd.
Daytona Beach, FL 32114
Your GEICO Insurance Agent in Daytona Beach could help you save.
Nuestro agente de seguro en Daytona Beach habla español. El te dará un servicio personalizado y te podría ayudar a encontrar una excelente cobertura a buen precio. ¡No dudes en visitarlo hoy!
As racing enthusiasts flock to Daytona Beach to test the limits of speed, your GEICO Daytona office proves there's almost no limit to how much you could save on insurance. Every day, we help Daytona Beach residents with insurance for their cars, motorcycles, boats, RVs, ATVs, PWCs, and more. GEICO could help you save even more with additional discounts for Military and federal personnel and members of numerous professional and educational organizations.
Your Daytona Beach GEICO Insurance Agent is ready when you are with a free rate quote.
Rufus Johnson is on West International Speedway Boulevard.