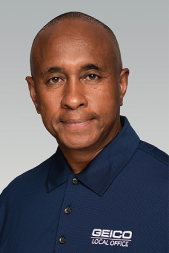 Rufus Johnson is your GEICO Insurance Agent in Daytona Beach.
Hi, my name is Rufus J. Johnson. I have been serving the Daytona Beach and Halifax area as your GEICO Insurance Agent since 2005 and have been an insurance agent in Volusia County for 13 years. GEICO offers good student discounts along with several others, and we can help you find the right discounts for your insurance needs.
En nuestra agencia de seguro en Daytona tenemos representantes que hablan Español. Le podemos ayudar con seguros de auto, inquilinos, botes e inundación ademas de brindarle un excelente servicio.
Look for Rufus's team all around Daytona Beach.
I'm active in the community as a member of the Daytona Regional Chamber of Commerce, the Ormond Beach Chamber, and the Port Orange-South Daytona Chamber. I also serve on numerous non-profit boards.
You can always find me at Bruce Rossmeyer's Destination Daytona during BikeWeek and Biketoberfest and also at the Speedway during Race Week here in Daytona Beach.
Office Hours
GEICO is here to help during the Coronavirus outbreak.
Please call or email your local GEICO Office to learn more as office hours may vary.
GEICO está aquí para ayudarte durante la expansión del coronavirus.
Debido a que el horario de atención puede variar, por favor, contacta a tu agente local de GEICO para recibir más información.
Monday: 9:00 AM - 8:00 PM
Tuesday: 9:00 AM - 8:00 PM
Wednesday: 9:00 AM - 8:00 PM
Thursday: 9:00 AM - 8:00 PM
Friday: 9:00 AM - 8:00 PM
Saturday: 10:00 AM - 6:00 PM
Sunday: Closed