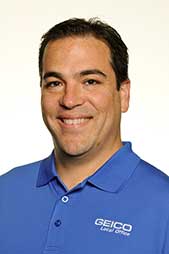 Meet Mario Sueiras
Your Local GEICO Insurance Agent
I'm here to help with all your insurance needs.
Office Hours
Monday: 9:00 AM - 5:30 PM
Tuesday: 9:00 AM - 5:30 PM
Wednesday: 9:00 AM - 5:30 PM
Thursday: 9:00 AM - 5:30 PM
Friday: 9:00 AM - 5:30 PM
Saturday: 9:30 AM - 1:00 PM
Sunday: Closed
Get to know your Miami insurance agent.
My name is Mario Sueiras, and I am your GEICO Insurance Agent in Miami. Yo hablo Español. I have over 20 years of insurance experience, so I can help you get the right coverage.
Being from Miami, I understand what's important to the people of this community and can provide the insurance you need to protect what matters to you. We can now help you with boat and ID theft protection products to go along with our other insurance products that include: auto, home, life, renters, and flood.
En nuestra agencia de seguro en Miami tenemos representantes que hablan Español. Le podemos ayudar con seguros de auto, casa, inquilinos, botes e inundación ademas de brindarle un excelente servicio.
Visit the Miami insurance agency.
We are conveniently located at 8514 SW 8th Street between the 826 (Palmetto Expressway) and the Florida Turnpike on Southwest 8th Street (Tamiami Trail) in the Festival Plaza. We're in the neighborhood, so come by and get a no-obligation quote to see how much money we could help you save.