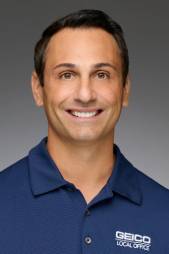 Meet Joe Pignatora, your local GEICO insurance agent in North Port, FL!
Learn about Joe's experience prior to becoming a local GEICO insurance agent:
Over 12 years of relevant experience
A veteran of the United States Navy
Insurance agent and customer service representative
Supervisory and managerial roles
Fostering partnerships and working collaboratively with stakeholders
As a local agent in your community, Joe has been involved in:
The North Port Chamber of Commerce
Local events
Charitable organization support
In addition to being your local agent, Joe enjoys:
Spending time with his wife and 4 children
Enjoying local beaches and parks
Sightseeing
As your local agent, Joe has earned the following credentials and awards:
Master of Business Administration
Bachelor of Science
As your local agent, Joe is licensed to serve you in:
Contact Us
We're here for you 24 hours a day, 7 days a week. The quickest way to contact us is through our app or online. You can also chat for immediate help.
Office Hours
Please call or email your local GEICO Office to learn more as office hours may vary.
Monday: 9:00 AM - 6:00 PM
Tuesday: 9:00 AM - 6:00 PM
Wednesday: 9:00 AM - 6:00 PM
Thursday: 9:00 AM - 6:00 PM
Friday: 9:00 AM - 6:00 PM
Saturday: Closed
Sunday: Closed