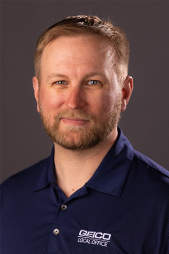 Meet Will Schrade, your local GEICO insurance agent.
Hi! My name is Will Schrade. I started working in the insurance industry when my father opened a GEICO office in nearby Albany, NY. I'm excited to be operating my own office here in Saratoga Springs where my family and I live. I'm thrilled to help members of my own community save money on insurance.
Learn about Will Schrade, your GEICO insurance agent in Saratoga Springs, New York.
Our top priority is providing current and potential customers with top notch customer service. My staff and I want to make sure every client is properly covered for all their needs. I enjoy skiing at Gore Mountain and relaxing on our many nearby lakes. Some of my other hobbies include camping in the Adirondack Park, fishing, hiking, reading, and playing tennis.
Will Schrade understands more than just insurance in Saratoga Springs, New York.
Our office specializes in helping our policyholders save money on car insurance, but we can help you find additional coverage, too. Are you stationed at Saratoga Naval Support Activity Base? Let us know —you could get a special Military discount! Are you frequently on Lake Champlain, Lake George, the Hudson River, or Saratoga Lake? We could help insure your boat or personal watercraft, too! If you like to camp at Adirondack Park, ask us how we can help insure your RV. We can also bundle your auto coverage with homeowners insurance through the GEICO Insurance Agency—so ask us about GEICO's Multi-Policy Discount.
Will Schrade and his team are involved in the Saratoga Springs community.
My team and I look forward to attending many local activities, but our favorites are the Chowder Fest, Americade, Head of the Fish, shows at SPAC during the summer, rowing events on Fish Creek, and horse racing at Saratoga Race Course. I personally volunteer my time to work with the Saratoga Chamber of Commerce and the Adirondack Chamber of Commerce.
Will Schrade is here for you in Saratoga Springs, New York!
Office Hours
Please call or email your local GEICO Office to learn more as office hours may vary.
Monday: 9:00 AM - 7:00 PM
Tuesday: 9:00 AM - 7:00 PM
Wednesday: 9:00 AM - 7:00 PM
Thursday: 9:00 AM - 7:00 PM
Friday: 9:00 AM - 5:00 PM
Saturday: 10:00 AM - 2:00 PM
Sunday: Closed