Winston-Salem Insurance Agent
Your Local GEICO Insurance Agent In Winston-Salem
Click the agent name or icon image for more information.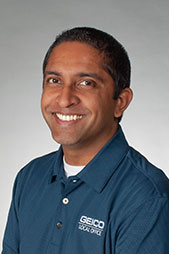 1031 Hanes Mall Blvd.
Winston-Salem, NC 27103
There's a local GEICO agent in Winston-Salem!
Shopping for car insurance in Winston-Salem, NC? You've come to the right place.
Whether you decide to cheer on the Winston-Salem Dash, get excited when the Hot Light is on at Krispy Kreme, love attending the Greek Festival, or all the above, you and your Winston neighbors know it's an amazing place to call home.
If you live in Winston, you know driving a car is the best way to get around. And if you drive a car, you must have car insurance. Now, you have a choice to get great insurance rates, coverage, and service with GEICO-all close to home!
Not only car insurance, your local Winston agent is here to help you save money on motorcycle insurance, boat insurance, RV insurance, homeowners insurance, and so much more. They also know the City of Arts & Innovation like you do.
When you get a quote with your local GEICO agent, be sure to ask about discounts! GEICO offers savings opportunities for Military and federal personnel, as well as members of numerous professional, medical, educational, alumni, fraternity, and sorority organizations.
From world-class service and fast, fair claim handling, it makes sense why our customers love GEICO. And today's the day to contact your Winston-Salem agent.
Anant Venkataraman is located in the Hanes Commons Shopping Center on Hanes Mall Blvd.