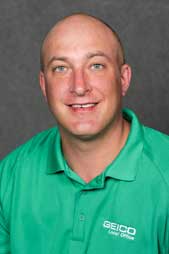 Get to know James Moyer, your GEICO Insurance Agent in North Olmsted.
Hello, my name is James Moyer. I have been serving the Cleveland area since 2007 as the GEICO Insurance Agent. Cleveland is a very diverse area, and we do our best to offer tailored solutions for your insurance needs. No case is too big or too small. We work closely with you so we can find the appropriate coverages, and we make sure to maximize your savings along the way. My office staff and I are ready to serve all your insurance needs. Ask how we can help save on Cleveland car insurance, insurance for your home, and more.
Look for James and his team around North Olmsted.
The North Olmsted GEICO office is active in our community. You'll find us at events such as the Cleveland Ride for Kids, Ohio Bike Week, and the City Mission's Annual Motorcycle Ride. During the holiday season, my office is a drop-off site for Toys for Tots.
Visit us in North Olmsted.
We are conveniently located near the Great Northern Mall, approximately 1/2 mile north of I-480 on the right side of Great Northern Boulevard. Always feel free to call my office and we would be happy to guide you here. We look forward to meeting you and seeing how we can help.
Office Hours
Please call or email your local GEICO Office to learn more as office hours may vary.
Monday: 9:00 AM - 7:00 PM
Tuesday: 9:00 AM - 7:00 PM
Wednesday: 9:00 AM - 6:00 PM
Thursday: 9:00 AM - 7:00 PM
Friday: 9:00 AM - 6:00 PM
Saturday: 10:00 AM - 2:00 PM
Sunday: Closed