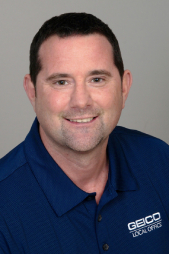 Meet Ray Jenkins, your local GEICO insurance agent.
Hi! My name is Ray Jenkins and my family and I have enjoyed being involved in the Westerville and surrounding communities for over 20 years now. I have more than 20 years of insurance experience. It's a great feeling waking up every day knowing that I can help people protect their important assets.
Learn about Ray Jenkins, your GEICO insurance agent in Westerville, Ohio.
After needing to file a large insurance claim early in my life, I realized just how important it is to understand, and to have the right amount of insurance coverage. I knew that I could help a lot of people in my community by making sure they understood what types of insurance GEICO has to offer.
One of my family's favorite hobbies is spending time in nature, camping, boating, or hiking in the more than 40 parks Westerville has to offer! We like to boat on the Alum Creek, Hoover Reservoir, and Buckeye Lake, and enjoy getting out on the water any time we can! Having two kids who are active in sports, I've been involved in coaching and attending their events over the years.
Speaking of sports, I am an avid fan of the Ohio State Buckeyes, Columbus Blue Jackets, and Columbus Crew.
Ray Jenkins understands more than just insurance in Westerville.
Our expertise isn't limited to just car insurance. If you take your boat or personal watercraft out on Alum Creek, Hoover Reservoir, or Buckeye Lake, ask us how we can help get you covered. We can also help bundle your auto coverage with homeowners insurance through the GEICO Insurance Agency - so don't forget to ask us about GEICO's Multi-Policy Discount.
Ray Jenkins and his team are involved in the Westerville community.
As my fellow locals know, we're never short of things to do in Westerville, which has been voted "Best Place to Live" by Money magazine, twice! It's also been called the "City within a Park" because there are over 40 parks and recreational facilities. From local community events, outdoor activities, and sporting events, to shopping and dining in the old-generation Downtown, there is something for everyone!
Ray Jenkins is here for you in Westerville, Ohio!
Office Hours
Please call or email your local GEICO Office to learn more as office hours may vary.
Monday: 9:00 AM - 6:00 PM
Tuesday: 9:00 AM - 6:00 PM
Wednesday: 9:00 AM - 6:00 PM
Thursday: 9:00 AM - 6:00 PM
Friday: 9:00 AM - 6:00 PM
Saturday: 10:00 AM - 3:00 PM
Sunday: Closed