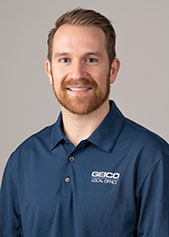 Rudi Pino is your local GEICO insurance agent in Clackamas, Oregon.
Hi! My name is Rudi Pino, and I've been in the insurance industry for 13 years. As a Clackamas native, I look forward to helping policyholders in my community save money, and I have full-time staff fluent in several languages including Russian, Ukrainian, Armenian, Romanian, German, Chinese, Japanese and Vietnamese. When not in the office, you can find me golfing, mountain biking, or wake boarding.
Rudi's team also has Spanish-speaking agents available.
Rudi understands more than just insurance in Clackamas, Oregon.
One of my team's biggest goals is to help our policyholders save money on car insurance, but our expertise doesn't stop there. If you serve with the National Guard, ask us how we can help you save money with a military discount! We can also help bundle your auto coverage with homeowners insurance through the GEICO Insurance Agency—so don't forget to ask us about GEICO's Multi-Policy Discount.
Rudi and his team are involved in the Clackamas, Oregon, community.
My team and I look forward to supporting many local events, including the Portland Rose Festival, Portland Brew Fest, and Clackamas County Fair. Personally, I volunteer with several local charities and non-profits, including the Woodland Action Center Food Bank, Portland Winterhawks Feed the City, 100+ Men Who Care, Flash Love, Compassion to Action, and Portland Junior Hawks Youth and ACP Hockey Player Development. I'm also a member of the North Clackamas Chamber of Commerce.
We look forward to hearing from you!
Office Hours
Please call or email your local GEICO Office to learn more as office hours may vary.
Monday: 9:00 AM - 7:00 PM
Tuesday: 9:00 AM - 7:00 PM
Wednesday: 9:00 AM - 7:00 PM
Thursday: 9:00 AM - 7:00 PM
Friday: 9:00 AM - 7:00 PM
Saturday: 9:00 AM - 7:00 PM
Sunday: Closed