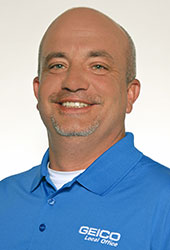 Meet Darrell Fisher, your Plano insurance agent.
Hello everyone, my name is Darrell W. Fisher. I have been serving the Plano and North Dallas areas as your GEICO Insurance Agent since 2007. Before becoming a GEICO Insurance Agent, I worked with GEICO for over 10 years managing numerous offices in the Midwest, including offices in Texas, Oklahoma, Nebraska, Missouri, Kansas, South Dakota, North Dakota, Colorado and New Mexico. Currently, I'm an active member of the Plano Chamber of Commerce. On a personal note—I'm an active youth soccer and baseball coach. I love being part of my Plano community!
Learn more about the Plano GEICO office.
It's amazing how many of our neighbors enjoy a day at the lake, camp avidly, and love to hunt and fish. My office is able to help you with insurance products for all these activities: boating, camping with your RV, trail riding on your ATV, and more! Here at the local office, we are able to address just about all of your insurance needs. And since we are a local GEICO agency, we are able to help you customize your insurance policies for your unique needs.
You can find our GEICO booth at the annual Plano Balloon Festival. We also participate annually at the local Wildflower Festival. We even join in the local parades; you'll see the Gecko cruising around in his car at holiday-themed parades all around Plano and North Dallas.
Find our agency in Plano.
We are conveniently located on the Central Expressway (Highway 75), between Park Boulevard and 15th Street on the west side of the freeway. Just look for the big GEICO signs!
Office Hours
Please call or email your local GEICO Office to learn more as office hours may vary.
Monday: 9:00 AM - 6:00 PM
Tuesday: 9:00 AM - 6:00 PM
Wednesday: 9:00 AM - 6:00 PM
Thursday: 9:00 AM - 6:00 PM
Friday: 9:00 AM - 6:00 PM
Saturday: 9:00 AM - 6:00 PM
Sunday: Closed