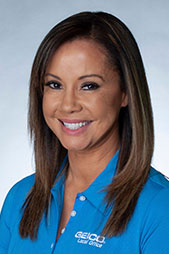 Meet Denise Buckley
Your Local GEICO Insurance Agent
I'm here to help with all your insurance needs.
Office Hours
Monday: 9:00 AM - 7:00 PM
Tuesday: 9:00 AM - 7:00 PM
Wednesday: 9:00 AM - 7:00 PM
Thursday: 9:00 AM - 7:00 PM
Friday: 9:00 AM - 7:00 PM
Saturday: 10:00 AM - 6:00 PM
Sunday: Closed
Denise has got your insurance needs covered in the Houston area.
Hi, my name is Denise Buckley, and I am very excited to be your new local GEICO agent. While I'm new to Cypress, I'm not new to the insurance industry and have been an insurance agent since 2014. There's nothing more rewarding than helping people with their insurance needs.
I look forward to being active in the Cypress community. I am a huge football fan (who isn't in Texas?) and enjoy traveling.
En nuestra agencia de seguro en Cypress tenemos representantes que hablan español. Le podemos ayudar con seguros de auto, casa, inquilinos, botes e inundación, además de brindarle un excelente servicio.
We have full time Spanish and Vietnamese-speaking staff in the GEICO Cypress office available to help you.
Car insurance and a whole lot more.
Being local means you can easily visit my friendly team for great car insurance, but it doesn't stop there. With the continued growth of single-family homes in Cypress, we're here to save you money on your homeowners insurance, too. Be sure to also let us know about your other vehicles-from your motorcycle to your boat-so we can do our best to help make sure you have coverages that work for you.
We also love finding ways to help you save money. GEICO offers discounts for good students and drivers, members of certain professional organizations and alumni associations, federal employees, and more!
Stop by the Cypress office.
We are conveniently located off Hwy 290 and Barker Cypress Rd. If you are in the plaza, just stop on over. We can't wait to meet you!