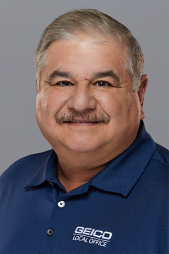 Ariel Garcia is your Corpus Christi GEICO Insurance Agent.
My name is Ariel A. Garcia, and I have been serving the Corpus Christi Coastal Bend area as your GEICO Insurance Agent since 1984. Before moving to Corpus Christi, I was the local GEICO agent in the Bossier City, LA, office that opened in 1981.
I am active in the Corpus Christi community as a board member of the Navy League and the Corpus Christi Chamber of Commerce. I recently received the Honorary Master Chief Petty Officer Certificate of Appointment from the Master Chief of the Navy for the services that our office provides to Navy personnel serving NAS Corpus Christi.
You can almost always find our GEICO tent at the Blue Angels Open House at NAS Corpus Christi or at BayFest Music Festival. Stop by and say "hi!"
Ariel's team can help you with your insurance needs.
The Corpus Christi Coastal Bend is subject to hurricane-force winds, and we can help you with hurricane insurance coverage. We can also help you with Mexico car insurance, which provides auto insurance protection while you're driving in Mexico.
To help our Spanish-speaking customers, we have staff available to help you.
En nuestra agencia de seguro en Corpus Christi tenemos representantes que hablan español. Le podemos ayudar con seguros de auto, casa, inquilinos, botes e inundación además de brindarle un excelente servicio.
Find the Corpus Christi office.
We are conveniently located on South Padre Island Drive between South Staples Street and Airline Road across from the Sun Rise Mall.
Office Hours
GEICO is here to help during the Coronavirus outbreak.
Please call or email your local GEICO Office to learn more as office hours may vary.
GEICO está aquí para ayudarte durante la expansión del coronavirus.
Debido a que el horario de atención puede variar, por favor, contacta a tu agente local de GEICO para recibir más información.
Monday: 9:30 AM - 7:30 PM
Tuesday: 9:30 AM - 7:30 PM
Wednesday: 9:30 AM - 7:30 PM
Thursday: 9:30 AM - 7:30 PM
Friday: 9:30 AM - 7:30 PM
Saturday: 10:00 AM - 4:00 PM
Sunday: Closed